Laurissa and Tom have recently opened their first fabulous restaurant: Pignut in Helmsley. Laurissa explains how the pair got here and provides four recommendations of delicious food and drink pairings.
Tom and I worked together in different restaurants for a number of years; we began to realise we had a lot in common on how we see the food, wine and the natural world. Additionally, we had the same vision of what our own restaurant would visually look like and how we would like to deliver the experience. I have always loved pairing unusual wines with Tom's food – his dishes are already so interesting, being able to bring out particular flavours with the use of unusual wine, beer and cocktails seems to take the food to a whole new level.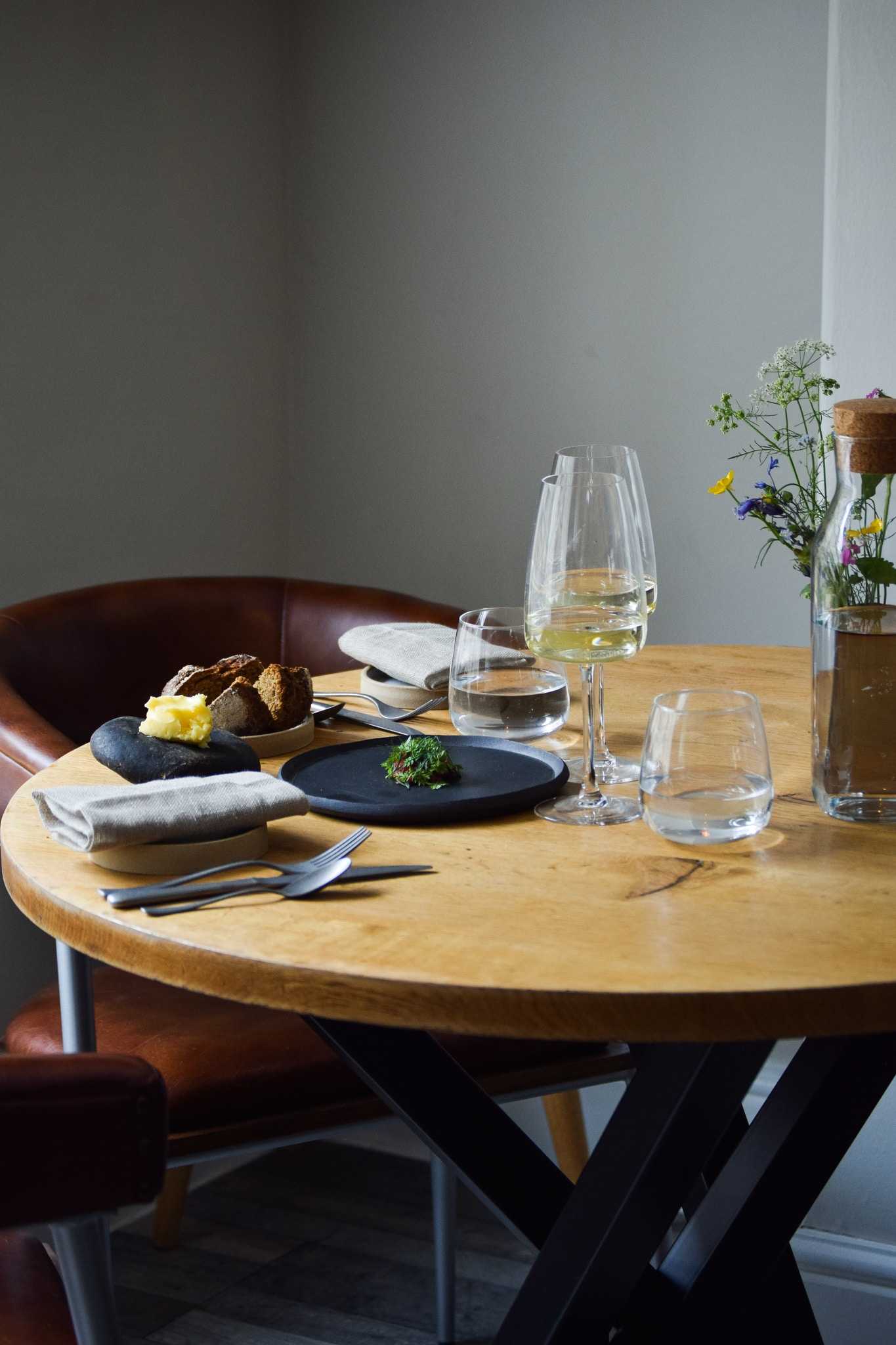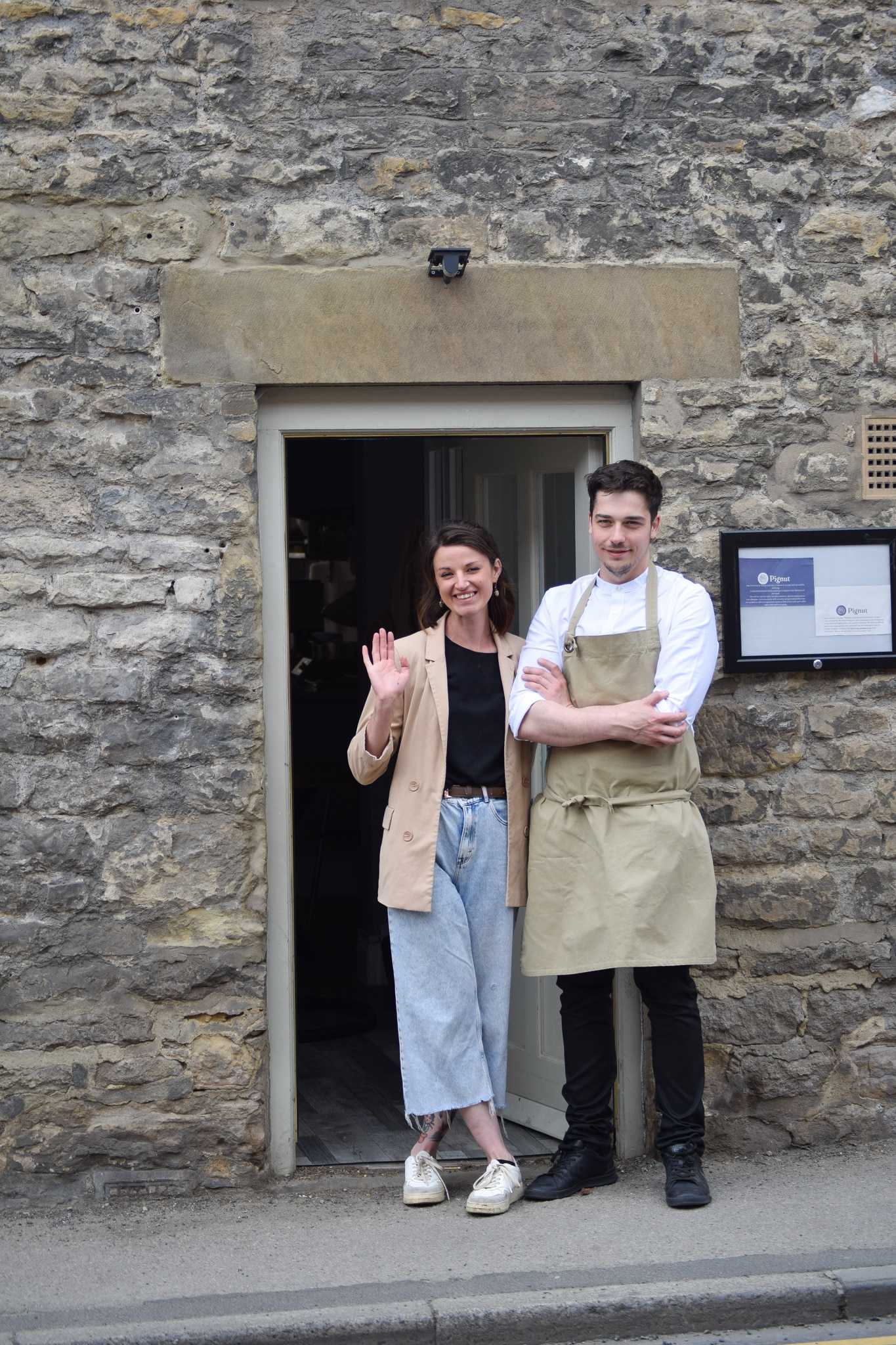 We were having lunch in Helmsley talking about our dream of opening our own restaurant with the freedom to really push boundaries and completely use local and foraged produce, restricting us and allowing Tom to be creative with these ingredients in the kitchen, plus I can use them throughout the bar offering. We incidentally walked past an empty restaurant which we enquired about – and here we are 4 months later, about to open our own restaurant!
We want to offer an experience that is affordable along with showing our commitment to sustainability. Locally sourcing our produce to minimise the environmental impact and showcasing the highest quality ingredients, enhancing these by using unconventional food-wine pairings, all wrapped up in a casual fine dining atmosphere. We will have a course dedicated to all our 'waste', so all the trimmings of the fish, meat, vegetables and herbs will be used up in this course.
Liz and James' Asparagus, Wild Garlic, Almond
Liz and James grow asparagus in Appleton Roebuck; they don't spray the asparagus which means there's a lot more work involved in growing them but you can tell with the taste that it's worth it. This is a really simple dish that tastes great. We slightly roast the asparagus but leave it still crunchy, pair it with a wild garlic and almond sauce and finish it with halved almonds and wild garlic flowers.
We've paired an orange wine with this one. Asparagus is a hard pairing as it is such a strong flavour it can make a lot of wines taste vegetal and grassy. Which would in turn ruin the dish and wine. The Orange wine I have chosen is Francois Lurton Hacienda Araucano 'Humo Blanco' Edicion Limitada Sauvignon Blanc. It is really rich which lots of intense flavours but all that compliment the asparagus and the garlic; it even has a hint of asparagus on its palate as well as having some tropical guava fruit to lift it.
Soda Bread with Acorn Dairy Butter
I've always been a fan of serving bread on a menu and a lot of people serve sourdough – we've decided to serve a soda bread which has an amazing flavour. We use the buttermilk and butter from Acorn Dairy – an organic dairy in the Yorkshire Dales – and flours from Mike and Kate Stringer, whose farm is also fully organic and part of the Yorkshire Grain Alliance on top of the Yorkshire Wolds.
We paired this with a beer brewed literally a 30 second walk away from our front door! It's delicious. We use Helmsley Brewing Co. Honeyed Golden Ale – this uses Honey from Hives in the North York Moors. They also use Maris Otter Malts, which are perfect with the soda bread and then the zesty flavours cut through the creamy butter and the honey just adds flavour to this dish. Think butter and honey with a squeeze of lemon on toast!
Castle Howard Aberdeen Angus Tartar, Blue Cheese, Onion, Gherkin, Dill and Chervil
This dish is all about the quality of the beef which has been salt aged for 21 days as well as hung for 21. The blue cheese really helps enhance the aged flavour of the beef. Castle Howard's Aberdeen Angus beef is among the best I've ever tried and is reared on the Estate by the Fargher family.
For this one we've paired a wine by the De Andres sisters – they don't try to impose any rules in these terroirs, but to listen, to learn and to create wines that have a real impact – yet a low impact on the environment. This wine uses organic and biodynamic practices, they use over 80 year old Garnacha vines for real quality fruit grown in Navarra in Spain. This has really delicate red fruit flavours of cranberry and cherry which compliment the blue cheese and then subtle hints of earth and dark spices enhancing those aged tones you get throughout the rump of beef.
Slow Cooked Food Circle Egg, Crispy Onion, Dopiaza Sauce, Yoghurt
When I travelled around India, what I loved best about the country was exploring all the different flavours of curry, which is why we will normally have an Indian inspired dish on the menu most of the time. Dopiaza is my favourite; onions are in season at the moment and we use both the bulb and the tops. We get our eggs from the Food Circle who have formed an egg Co-op, bringing local farmers together to help sell their eggs.
Cataratto/Grillo, Vanedda Azienda Agricola, Cortese Sicily 2021 – this is one of our joint favourite wines and it's so versatile with food as well. Prominent notes of coconut and tropical fruit are great with curry dishes and it's got a high acidity which cuts through that rich egg yolk. It also has an undercurrent of gentle spices from being aged with the lees for 7 months which intensifies the dish.
Images by: @mollierosephotography