York is a city with an abundance of amazing independent clothing shops and boutiques. From prestigious country and British Heritage fashion, to vintage from all eras and unique one-of-a-kind pieces, there is a shop that will fulfill everyone's fashion and style needs. We have found some of the best independent clothing shops in York that you need to check out…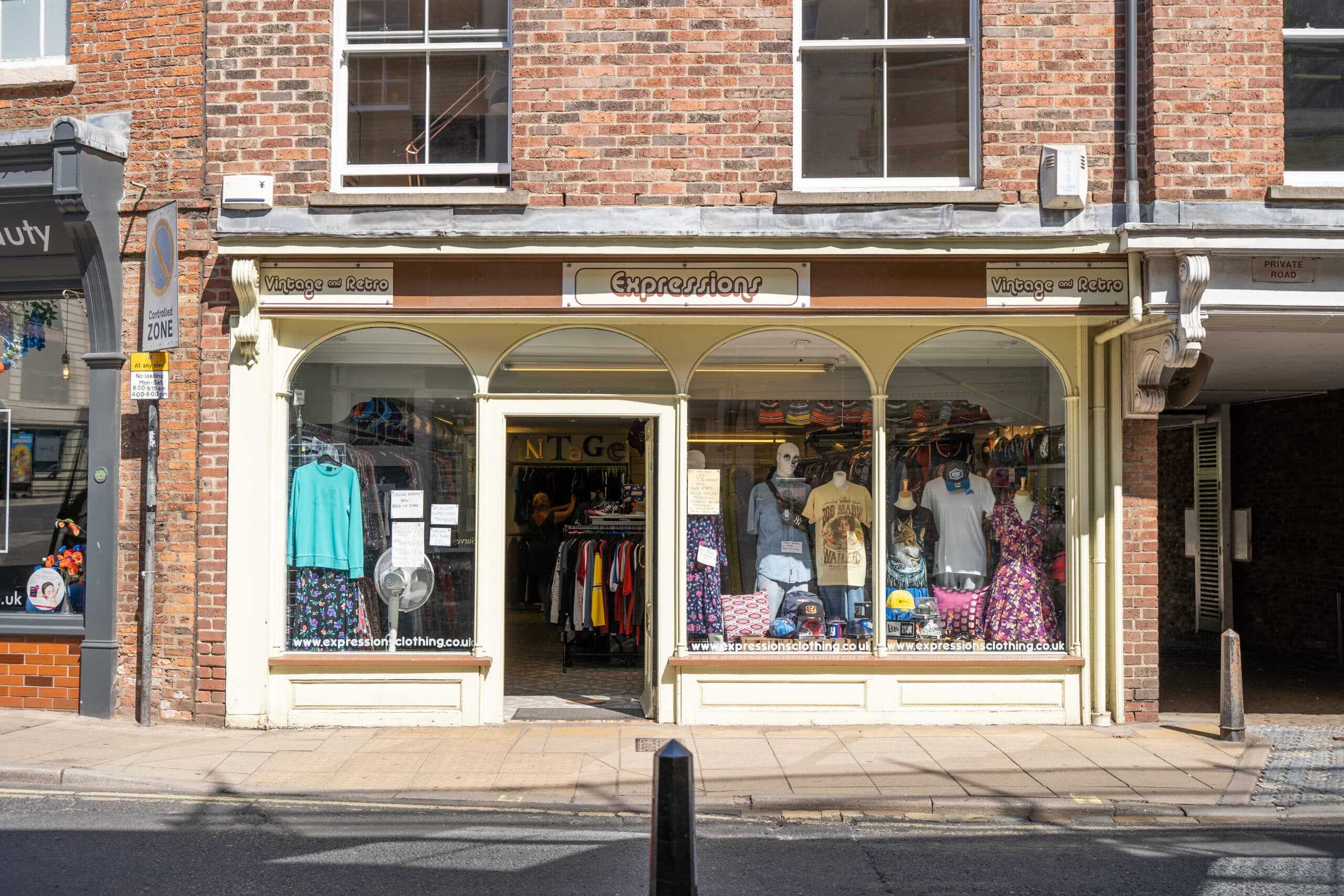 Dog and Bone Vintage
If you love shopping vintage, Dog and Bone is a shop that will be able to fulfil all your needs. Dog and Bone started off as a market stall in Brighton in 2011 in the midst of a recession where the owner began selling his own collection. It continued to grow after this point and in 2015 it became the store it is today with an online shopping option. With high street vintage, classic vintage and branded items from the 50s through to the 00s, there's a huge selection of items handpicked by the owner himself. All items are also sustainably sourced through the global textile market and saved from ending up in landfills.
Bowler and Betty
Bowler and Betty started off in 2008 as a small womenswear shop on Walmgate called Bowler Vintage. They rebranded to Bowler and Betty to better reflect their stock as they now sell menswear alongside womenswear. Bowler and Betty no longer stock true vintage items but there are plenty of authentic reproduction vintage to give you the vintage look in brand new clothes. Their reproduction vintage ranges in eras from the 1940s to the 1970s, with a 'vintage-ish' range available as well to work as a stepping stone into earlier eras.
Winstons of York
For fun, funky, unique men's and children's clothing, Winstons of York is the place to go. T-shirts, shirts and sweatshirts are available with designs ranging from Vikings to geometric animals and much more. Hats, socks, decorations and mugs are also on sale to complete your look. Made with organic materials with 100% organ cotton shirts and fair trade sweatshirts, makes this the perfect option for a more sustainable clothing choice.
Smarts of York
Smarts of York has been selling prestigious men and womenswear in the heart of York since 1967. Their stock includes formal wear, country wear, casual wear, accessories, and footwear. Collections from Scandinavian, European and British brands are featured by Smarts of York. If you can't find what you're looking for in store, some of Smarts of York's key suppliers offer comprehensive stock service support programmes which gives them the opportunity to find you exactly what you want.
Expressions
American sports lovers can find all their favourites at Expressions. A range of American football, ice hockey, basketball and baseball jerseys are directly imported from America every month meaning there is never a shortage of amazing stock. Their request service makes it possible to request certain items from certain eras to make sure you can get your hands on the exact one you want. The owner has experience going back to 2004 in grading and sorting clothes meaning the items being sold will be in as perfect condition as possible. Customised items are also available.
Giselle Ladieswear
For over 30 years, Giselle Ladieswear has been selling European clothing, handbags and footwear brands in the heart of York's city centre. A range of accessories are also available. Brands sold here are carefully chosen and only the best quality items and brands are put on sale. We collections are brought in with each season trend helping customers stay up to date on fashion trends.
Wild and Westbrooke
Inspired by living in the countryside, Wild and Westbrooke sell British Heritage fashion. After opening in 2018, they saw great success which led to their online store being launched in June 2020 making their products available all across the country. The products Wild and Westbrooke stocks are carefully selected and only the best quality items make their way into the store. A wide variety of high quality products are available meaning you can find something to fit your every needs.
Clarksons of York
Originally established as a Gents Tailor back in 1946, Clarksons of York has grown into a business selling a wide range of products. Clarksons can be found in the heart of York in a 1500s building, with its very own friendly, ghostly resident. British made suits, Tootal silk scarves, Garforth flat caps, fine luxury socks, Cheaney shoes and Seidensticker shirts are some of the products available. Limited edition ranges are also sold.
Sahara Boutique
If you are a person who prides themselves on being individual and dressing uniquely, you can find something to satisfy your vision at the Sahara Boutique. They are renowned for their contemporary women's clothing with unique aesthetics that cannot be found anywhere else. Collections designed by the boutique take into consideration the shape, size, skin tones, ages and styles of all potential customers making it inclusive and accessible for everyone.
Chinese Laundry
Established in Hull in 2004, Chinese Laundry expanded to York in 2015 and have seen great success ever since. Chinese Laundry handpicks their vintage stock from some of the finest European and American vintage collections, as well as classic British brands. Quality is important for Chinese Laundry and only Grade A vintage items are put out on their racks. Brands such as Pop Boutique and Warrior clothing are stocked, as well as their very own in-house label Re-Rinsed.